Download: Yasiin Gaye – Ms. Fat Booty
COMING SOON:
"Yasiin Gaye: The Return (Side Two)"
For updates follow us at:
http://facebook.com/amerigogazaway
http://twitter.com/amerigo615
http://twitter.com/soulmatesremix
Beef don't come with a radio edit. Download the first leak from Yasiin Gaye – The Return (Side Two) below.
R.I.P. Marvin Gaye (April 2, 1939 – April 1, 1984)
"If Marvin was alive now, wow, what would I say to him?" – Mos Def
Coming Soon: Yasiin Gaye: The Return (Side Two) 
For updates, follow us on:
twitter: twitter.com/amerigo615
facebook: facebook.com/amerigogazaway
Annenberg professors Taj Frazier and Josh Kun, in partnership with the Annenberg Black Student Association, proudly welcome acclaimed producer/DJ Amerigo Gazaway to USC for a discussion and demonstration of his Bizarre Tribe: A Quest to the Pharcyde mixtape. In Bizarre Tribe Mr. Gazaway combined the lyrics of The Pharcyde, one of L.A.'s most critically acclaimed hip-hop groups, with the samples used by A Tribe Called Quest, one of New York's most famous hip-hop icons. Amerigo Gazaway will not only demonstrate the making of his Bizarre Tribe project, but also discuss the importance of sampling and remix culture as well as copyright law and its effects on digital media.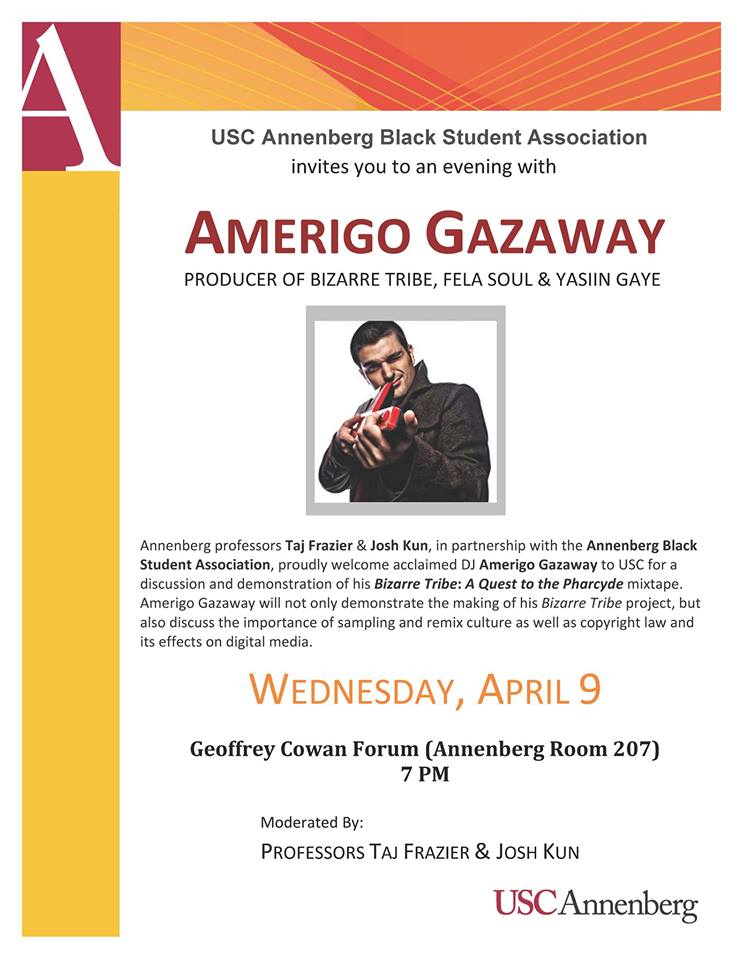 Info:
Wednesday April 9
Geoffrey Cowan Forum (Annenberg Room 207)
Moderated by Professors Taj Frazier & Josh Kun